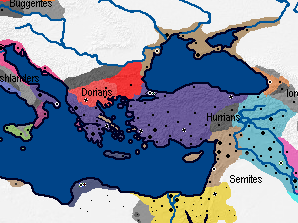 Once, the Eastern Seas teemed with dozens of independent nations. That was before the Plague, the Fallen War, the Pirates of the Aegean, the Katanic March and the rise of Varna. Now, two nations dominate the Eastern Seas. Katan's subject peoples ply the waves of the Aegean and Kreten seas while Varna dominates the Fallen Sea. However, Doussa's power is rising, as are the resurgant Levantines, under the protection of Hyak itself.
Organizations
Edit
Thloryn Union
Barbarians
Edit
Dorians
Lybians
Destroyed, Defunct, Dissapeared
Edit
Altyria
Kingdom of Trezebond
Odessa
Empire of Makedonia
Thloryn
Republic of Apulia
Relevant Outsiders
Edit
Ad blocker interference detected!
Wikia is a free-to-use site that makes money from advertising. We have a modified experience for viewers using ad blockers

Wikia is not accessible if you've made further modifications. Remove the custom ad blocker rule(s) and the page will load as expected.